Unlocking Directory Monitor
An unlock key for Directory Monitor can be purchased from the website or directly from the software under Help -> Unlock and clicking Buy Now.

If you have recently purchased an unlock key, then you need to enter the key into an unlock dialog to enable the features you want to make use of.

NB: The unlocking facility changed in version 2.9.0.0.
New users: Please ensure you upgrade to version 2.9.0.0 or higher because activation and the key you would have been issued will not work on older versions.
Existing users: Activation and your key upgrade should happen automatically. If options remain locked after an upgrade to 2.9.0.0 or higher, please retrieve your updated unlock key manually using the following link: https://directorymonitor.com/keyupgrade

. Enter and validate your existing unlock key information and your new key will be displayed as well as sent to the 

registered

 email address.



You can enter an unlock key through any available dialog but only the features your unlock key activates will be enabled. The simplest location to enter your unlock key or request a trial is through the main menu system under Help -> Unlock.

Enter the registered email address (the details will be in the email containing your unlock information) and the unlock key. It is much easier to just copy/paste (Ctrl+C then Ctrl+V) the details into the unlock dialog to avoid any mistakes. In fact, you can copy your entire email the the clipboard and Directory Monitor will detect the key and fill it in automatically.

Example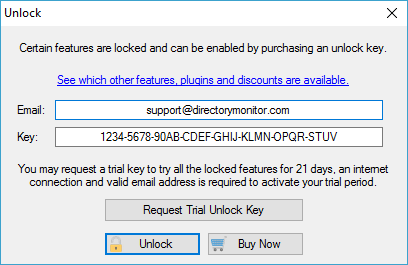 The unlock key will be silently activated online. If you wish to deactivate a machine so that you can make use of the unlock on another machine (within the limits of your purchase) use the menu option Help -> Deactivate 

allowing you to re-activate the software on another machine

. If you are unable to deactivate a machine yourself, please contact support to have the machine ID deactivated.

If your unlock key cannot be activated online, you will be presented with an additional dialog to provide the activation code manually. The manual activation page will also open in your default browser with the required fields pre-loaded. Most of the time the browser will be able to access web pages that Directory Monitor cannot.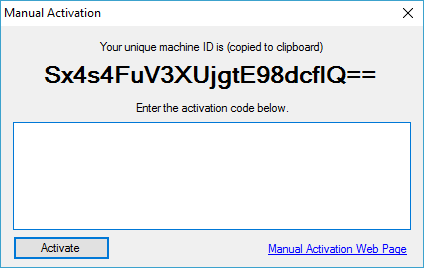 You can retrieve this code by going to t

he 

manual activation page

 on a machine with internet 

connectivity

 

and entering your registered email address, unlock key, and machine ID that is displayed on screen. Take the activation code that is generated for you to unlock the features. The activation code will also be emailed to you for your records.

The unlock dialog can also be opened from any number of areas where you see an unlock button. The price displayed will be relevant to the feature that you want to unlock.

Button to view pricing and unlock the PRO features



For more information on features, plugins and pricing please go here: https://directorymonitor.com/pricing